A little while ago when I attended the Taste of Christmas event I came across a stall decorated in shiny, colourful and delicate looking maracons from handmade premium maracon company Ganache Macarons.
I love maracons – there is just something magical about getting so many textures and flavours from one bite-sized treat! I did try to make my own maracons at home once unfortunately they went a little wrong! I was lucky enough to have been offered a selection of these petit fours to review and I was chuffed!
Of course you can't rush something as beautiful as a maracon and so my friends and I set up our own little tea party – partnering the 4 different flavoured maracons with a delicious Oolong tea from China.
There are 12 flavours available all year round with the occasional special edition being brought out for seasonal events etc. The 4 flavours we were given to review were: Lemon, Raspberry, Chocolate Orange & Caramel Popcorn (a special edition). I knew I was in for a treat having tried a salted caramel maracon at the Taste of Christmas event – so I watched as my friends tasted the Ganache Maracon delights for the first time.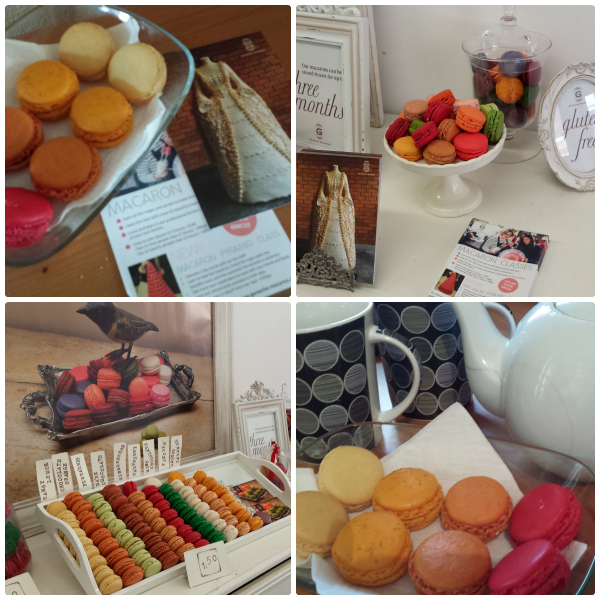 We started with the Lemon which had a bright and zesty flavour which was not too overpowering and went very well with our tea! Next came the chocolate orange – perfect flavour for the festive time of year – this one was well balanced with the two flavours (the orange of the meringue with a chocolate filling) complementing each other rather than fighting for supremacy.
The third flavour we tried was the raspberry with a delicious white chocolate & raspberry ganache filling which was delicious – we hadn't expected to find the chocolate there! This was out favourite flavour until we moved onto the 4th and last flavour: the popcorn! This had a fantastic mix of textures and flavours, you could really experience both the taste and texture of the caramel-y popcorn – our clear winner.
We all really enjoyed trying our the sweet treats from Ganache Maracon and would recommend this company to anyone looking for something a bit special. With fantastic flavour and texture combinations, vibrant colours and that hint of luxury that everyone needs once in a while we give them 5 stars! We look forward to seeing what new flavours Ganache Maracon continue to develop in the future.