My sister and I recently attempted to make some festive foodie treats and I wanted to share one of the recipes with you: Pistachio & Cranberry cookies! You might remember that I am a keen baker and despite having had a bit of a break from the kitchen recently was really happy to spent some time making festive treats with my sister.
This is a simple recipe which is quick and easy, with only 2 steps! The cookies make a great festive treat for you or can be presented beautifully in a jar or cellophane wrap and ribbons as Christmas gifts. You can find the original recipe on the BBC website. Once prepared the cookie dough can be popped into the freezer for up to 3 months cutting out any last-minute panics! Simply defrost in the fridge overnight, then slice and cook as below.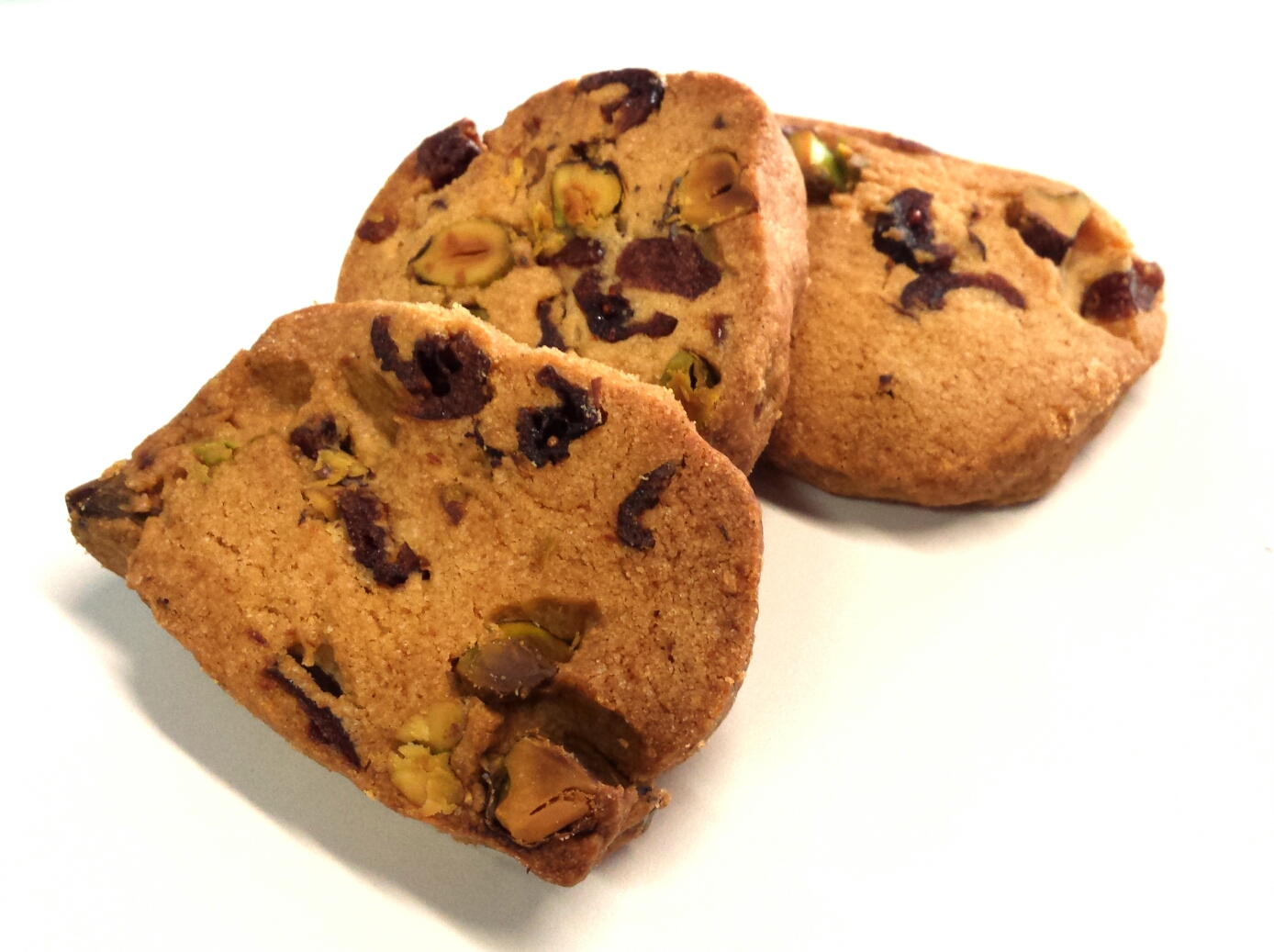 Cooking Info:
Cooking time Prep:15 mins
Cook:15 mins (plus chilling)
Servings Makes 22
Ingredients:
175g butter, softened
85g golden caster sugar
½ tsp vanilla extract
225g plain flour
75g pistachios
75g dried cranberries
Combine butter, sugar and vanilla extract in a large bowl and then stir in the flour. Add in the shelled pistachios and cranberries. It's a good idea to get your hands in the bowl at this point in order to bring the mix together as a neat ball of dough. Separate your ball of dough into two equal pieces and shape each half into a sausage about 5cm across. Wrap in cling film, then chill in your fridge for 1 hr or freeze for up to 3 months.
Heat oven to 180C/160C fan/gas 4. Slice your cookie dough sausages into 1cm-thick slices and place on a baking tray lined with baking parchment. Bake for 12-15 mins. Cool completely on the tray before eating or wrapping.
These cookies have a great flavour and texture with a shortbread style biscuit packed with crunchy pistachios and juicy cranberries and they have a great look with the festive colours of the green nuts and red berries making these a perfect choice for the Christmas season! Give them a go! If you're feeling a bit adventurous try dipping the finished cookies half in some melted chocolate for an extra special edge.