One thing that women can't really escape in life is the bra. I have had my good and bad experiences with underwear and being a curvy lady have had my problems finding a bra that is both practical and pretty! It's even worse when trying to find a bra which will look great in a halter neck or strapless item of clothing. I was recently contacted by Dutch brand Bye Bra* who asked me to take a look at their product which claims to offer women support at the same time as allowing them to wear whatever they want!
Created in 2011 the Bye Bra is a very thin and flexible self-adhesive foil in a horseshoe shape with which, unlike most strapless bra solutions which stick to the breasts themselves, offer shape and support from above rather than below using 3M tape which is used as a medical tape in hospitals. Bye Bra breast lifts claim to provide a transparent, waterproof, hypo-allergenic adhesive solution unlike any other breast lift product ever seen before allowing women to enjoy their favourite fashion without worrying about their décolletage.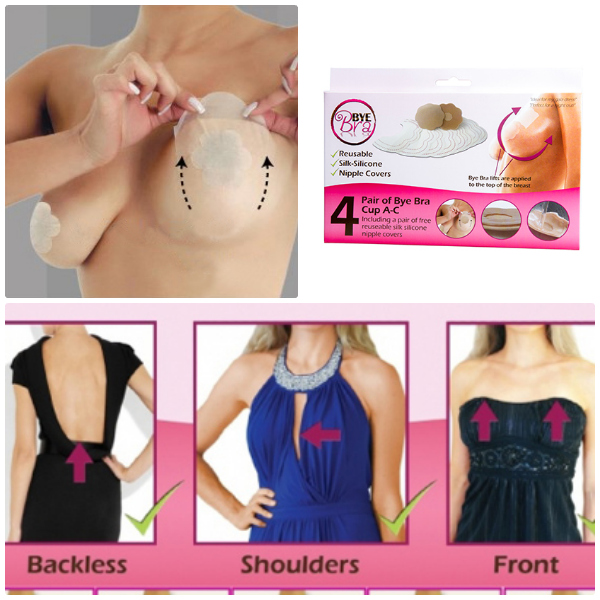 The product comes in 3 sizes, A-C, D-F and F+, allowing you to choose the perfect size for your needs, once applied the Bye Bra should stay in place all night giving you the freedom to dance and enjoy your night. Not just for evenings out the lift tape can also be applicable under a bikini as it is water proof to give you a little extra support.The Bye Bra also comes with nipple covers to conserve your modesty in silicon or silk – the silk nipple covers are lighter, smaller (6cm) and not reusable. Our silicone nipple covers are a bit larger (8cm) and reusable.
Women come in all shapes and sizes and this is recognised by this brand, the Bye Bra breast lift can be used to adjust the natural breasts modifying shape to give a more symmetrical placement – in turn it can give the wearer a self-esteem and confidence boost. The most interesting feature of the product for me is that the Bye Bra increases your wardrobe options – making it possible to wear strapless, backless, plunging and halter styles which before were tricky to get away with removing annoying bra straps or clasps.
If you're looking for an alternative to help you wear those cute summer dresses without worrying about trying to find a bra to suit, check out the Bye Bra and get 30% off by using the code stylishlondonliving at http://byebra.com/